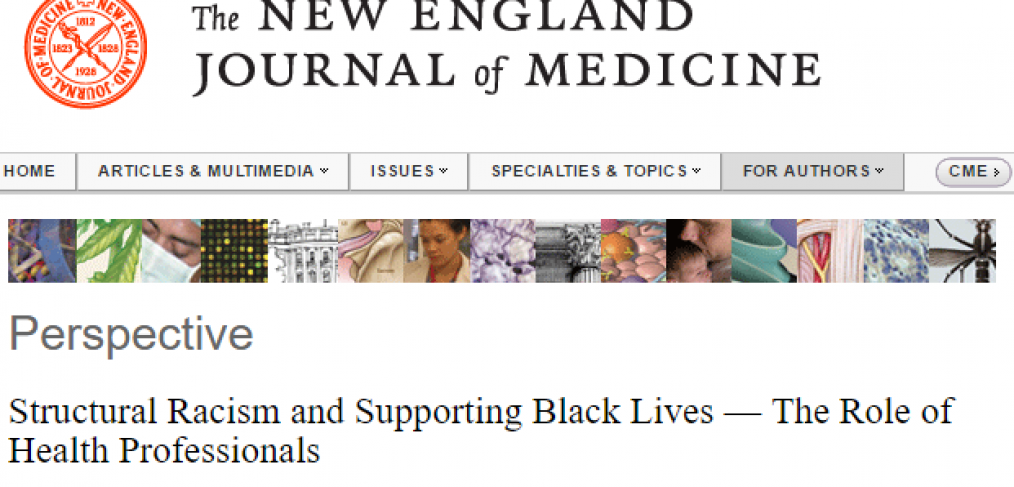 On October 12, 2016, the New England Journal of Medicine published an article in their "perspective" section titled: Structural Racism and Supporting Black Lives — The Role of Health Professionals. This international publication is widely respected among physicians, boasting the largest paid circulation among medical journals with over 200,000 paid subscribers and more than 300,000 online readers. The writers explain that while most physicians are not explicitly racist, they operate in an inherently racist system.  This article has three main points:
Our historical notions about race have shaped our scientific research and clinical practice.
Physicians need to understand how racism has shaped our narrative about disparities.
We need to  define and name racism in health care and health services research.
The New England Journal of Medicine is currently accepting public comment for this article. So far, 16 people have submitted comments (click on Comments on the article page) HIP-Cuyahoga co-chair and physician Dr. Heidi Gullett submitted a public comment on behalf of HIP-Cuyahoga: Addressing structural racism is key community health priority in Cleveland. Her comment:
"This thoughtful piece elevates the growing national narrative identifying structural racism as a powerful determinant of health and represents profound progress for communities across the country, including ours. In Cleveland, our community has experienced race-related trauma resulting in the premature deaths of many young people of color, covered nationally in the Tamir Rice tragedy. Our community also suffers from inequities in health outcomes such as life expectancy and infant mortality. These inequities are a direct result of structural racism stemming from practices such as redlining. It is imperative that we act on our collective responsibility to understand and overcome the roots of these inequities.
We believe that addressing structural racism will result in perspective transformation that catalyzes collective action thereby creating opportunities for everyone to achieve their full potential. Through the Health Improvement Partnership-Cuyahoga, an equity-centered movement, we are tackling structural racism. We must honor our interdependence by recognizing the past and intentionally seeking to transform oppressive systems and structures for a healthier collective future."