2022 COMMUNITY HEALTH ASSESSMENT
A collaborative community health assessment gives all our community members and partners' important data and information about the most pressing issues affecting the health of our County's residents. Improving population health and achieving health equity in Cuyahoga County is the shared responsibility of health care providers, public health agencies, local government, and other institutions, with community residents centered in all phases of the health improvement planning process.
Together is Better
HIP-Cuyahoga has a rich history of coordinated and collaborative community health assessments (CHA), initiated well before the state established the statutory requirement to align hospital and local health department's assessments on 3-year cycles by 2020.  We have successfully moved from individual assessments to coordinated county-level assessments with shared priorities, aligned strategies both locally and at the state level, coordinated advocacy, and collective accountability.  This CHA will be used to collectively design a community health improvement plan (CHIP) and implementation strategy for the next three years.  This plan will focus on equity-grounded approaches to address the most pressing health issue for Cuyahoga County.
The 2022 community health assessment was conducted by the Cuyahoga County Community Health Needs Assessment (CHNA) Steering Committee, which consists of many long-standing partners including Case Western Reserve University – School of Medicine, Center for Health Affairs, Cleveland Clinic, Cleveland Department of Public Health, Cuyahoga County Board of Health, The MetroHealth System, Southwest General Health System, St. Vincent Charity Medical Center, University Hospitals and many other organizations.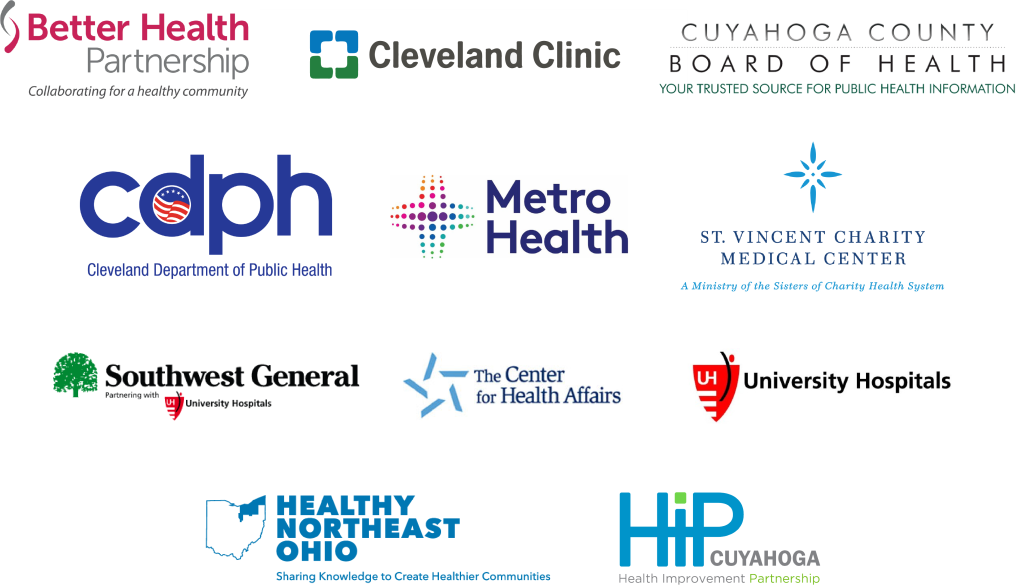 Moving from Separate Health Assessments toward
Greater Collaboration for Health Improvement
The opportunity for all in Cuyahoga County to achieve their full health potential depends upon long-term collaboration among diverse individuals and organizations.
In Cuyahoga County We Know That:
The opportunities that we have in our communities, affect our health and life expectancy. Opportunities to be healthy are not the same for everyone in Cuyahoga County. Despite ranking consistently in the top 10 in the state for clinical health care, our county ranks in the bottom third of all counties in Ohio for residents health. The conditions that shape health (commonly referred to as the social determinants of health) – such a financial resources, access to healthy food, and safe and affordable housing, are not spread equitably across the county, resulting in significant differences in health outcomes and life expectancy.
We now know that structural racism (racial bias across institutions and society), which leads to racial differences in power, status, and access to opportunities, is at the root of many of these barriers to healthy living. As a community, we have NOT yet achieved the system level changes necessary to dismantle the policies and practices that continue to perpetuate inequities and poor health outcomes in our County. As a result, we have once again selected Structural and Institutional Racism and Trust as overarching and cross-cutting priorities.
LIMITED OPPORTUNITIES
Social Factors and Conditions That Shape Health
Structural racism
Trust
Poverty
Food Insecurity
Transportation
POOR HEALTH
Health Behaviors, Mental Health and Health Outcomes
Tobacco use
Lack of physical activity
Flu vaccination rates
Cardiovascular disease
Diabetes
Childhood asthma
Opioids
Homicide/violence
Lead poisoning
SHORTER LIVES
Mortality
Infant mortality
Life Expectancy
Mortality rates from disease
Quotes from Key Informant Interviews
"The root cause of racism is white supremacy.  Also, structural inequities…the way our systems are built.  Racism is not like the racist who uses terrible language running down the street.  It's the structural systems that are set up to keep people down" – Key Informant
"Policy is important to think and talk about, and policy is in direct alignment with direct services and how we provide services; these two have to work together; look at the policymakers and who are making those decisions and what that means to communities experiencing the impact of racism" – Key Informant