Feed Our Future
Local Foods for Growing Minds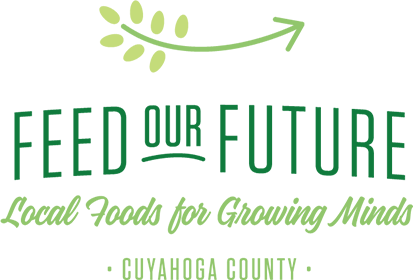 HIP-Cuyahoga's Feed Our Future initiative connects schools, homes, and communities by providing practical information about sourcing, eating, and promoting local foods that nourish young students. 

The Feed Our Future initiative website includes hyper local resources, turnkey solutions that connect farm to schools in Cuyahoga County; engage with Harvest of the Month, request marketing materials and resources for foodservice professionals, teachers and administrators, and parents and students.
At this site, you can also sign the Feed Our Future Pledge. Making a commitment to buying and eating more locally grown foods – or growing your own – is giving yourself and those you care for the gift of health, a cleaner environment, and a stronger local economy for generations to come.
Join Feed Our Future in support of students and the local food economy, and encourage your family, friends, and neighbors to do the same. Together, we can inspire young ones to make mindful choices about what they eat.
Local Food in Schools
Committed to purchasing locally
Twenty one people have taken the Feed our Future pledge so far (2 administrators, 3 community organizations, 1 distributor, 1 educator, 9 foodservice professionals, 1 parent, 1 producer, and 3 other stakeholders).
Feed Our Future partnerships with cooperative purchasing groups and producers that sell direct to schools has resulted in over 20 school districts in Cuyahoga County and the surrounding counties purchasing local produce over the last 2 school years.