Become a Good Food Here Partner
Healthier choices are right around the corner
In some neighborhoods around Cleveland, fresh, healthy foods are getting easier to find. Several of our partner Good Food Here stores have started offering fruits, vegetables, cereals, whole grains, low fat dairy products and fresh meats. Some are also offering healthy prepared snacks and meals so we can stay healthy even when we are on the go. We are hoping that additional stores can take advantage of our program. Below you will find information for store owners to learn how to become a Good Food Here store.
Download the Good Food Here Guide
How it works
This advertisement was posted on the side of buses running throughout eastern Cuyahoga County in July and August of 2016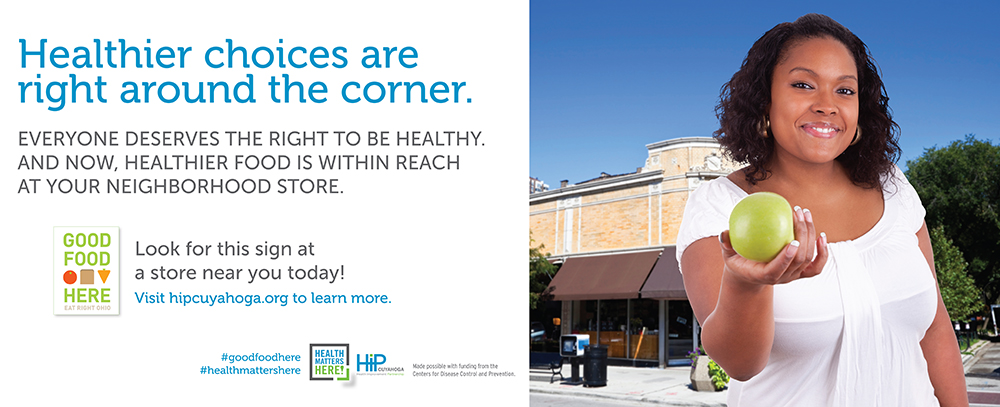 These posters promoting the Good Food Here Program feature local community residents at a Good Food Here store. The posters are currently posted throughout Cuyahoga County at health care facilities, CMHA housing facilities, barber shops, offices and recreation centers.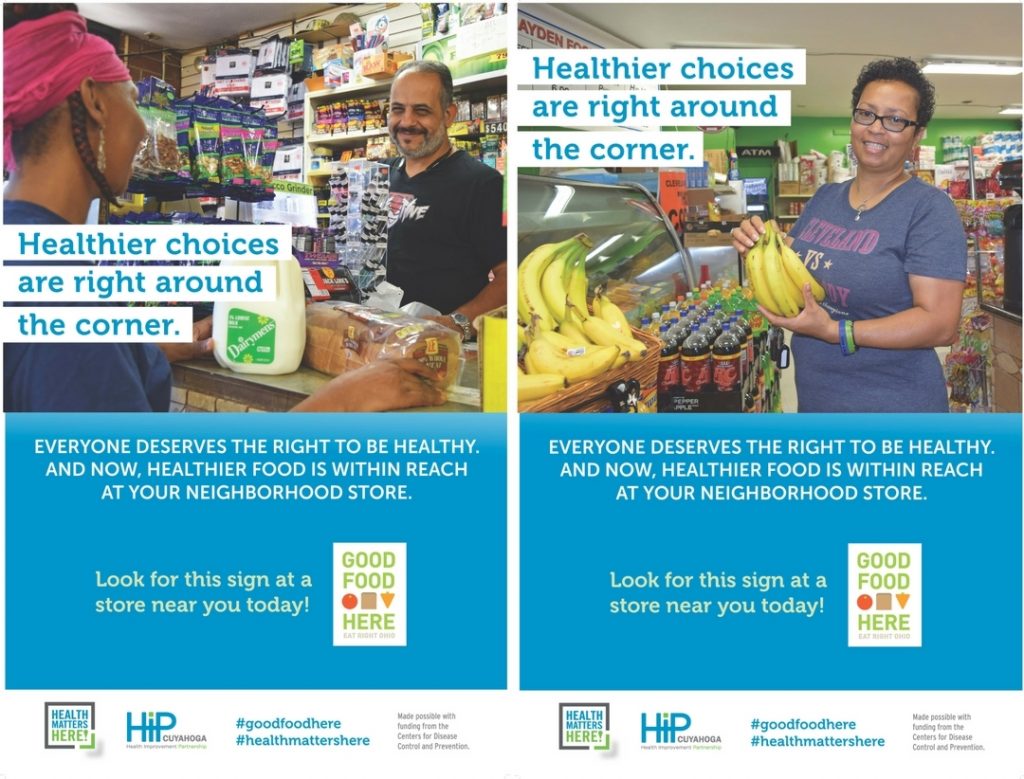 Selling Healthy Can Mean Better Business
Benefits to You and Your Community
Benefits for You
 New foods attract new customers and keep old customers coming back
 Offering healthy foods makes your business stand out from your competitors
 Healthy foods often have higher profit margins
Benefits for Your Community
Easy access to healthy foods means lower rates of chronic disease
Children who shop at your store need healthy foods to grow up strong
People who lack transportation will find healthy foods in their own community
Neighborhood residents will feel better about wher they live
Produce Distribution for Small Retail Stores
HIP-Cuyahoga understands that some small retail stores need a little help to get started with selling fresh foods such as produce, dairy, fresh meats, etc. Many typical small retail distributors don't carry these types of foods. Here are some tips to get started with selling healthy. Download the Store Owner Guide for more information on purchasing, stocking, pricing and promoting healthy foods in your store.  Need recipes to share with your customers? Click here for a free, online cookbook where all recipes can fit into a food budget of less than $4 per person per day! 
Download the Good Food Here Store Owner Guide
Start small:
Buy small amounts of new foods to see what your customers like the best.
Buy local:
Pick fruits and vegetables that are locally grown when possible. Buying in season may also save you money. Click here for a Seasonal Ohio Produce Chart. Click here to find a listing of local farmers' markets.
Check out the goods:
Examine produce before buying it. Be on the lookout for bruises, dents and spoiled spots. Don't buy produce if it doesn't look fresh.
 The nose knows:
Produce should smell fresh. If fruits and vegetables smell bad, don't buy them.
Need a Distributor?

Seaway Cash and Carry sells healthy snacks, frozen, drinks, cereals and canned items.
Contact Us
Program Coordinators for Good Food Here Stores
Kakul Joshi
kxj106@case.edu
(216) 368-1617
 Roger Sikes
rsikes@ccbh.net
(216) 201-2001 x1526
Local Health Departments
Please contact your local health department if you have any questions regarding food licenses, food handling procedures, and trainings.
Cleveland Department of Public Health
75 Erieview Plaza Cleveland, OH 44114
(216) 664-2324
Cuyahoga County Board of Health
5550 Venture Drive, Parma, OH 44130
(216) 201-2000