2019 COMMUNITY HEALTH ASSESSMENT
A community health assessment gives organizations, stakeholders and residents comprehensive information about the community's current health status, assets, needs, and issues
#TransformingHealthTogether
The 2019 Cuyahoga County Community Health Assessment (CHA) represents a powerful collaboration between Better Health Partnership, Case Western Reserve University School of Medicine, the Cleveland Department of Public Health, the Cuyahoga County Board of Health, the Health Improvement Partnership-Cuyahoga (HIP-Cuyahoga), The MetroHealth System, Southwest General Health Center, St. Vincent Charity Medical Center, The Center for Health Affairs, United Way of Greater Cleveland and University Hospitals.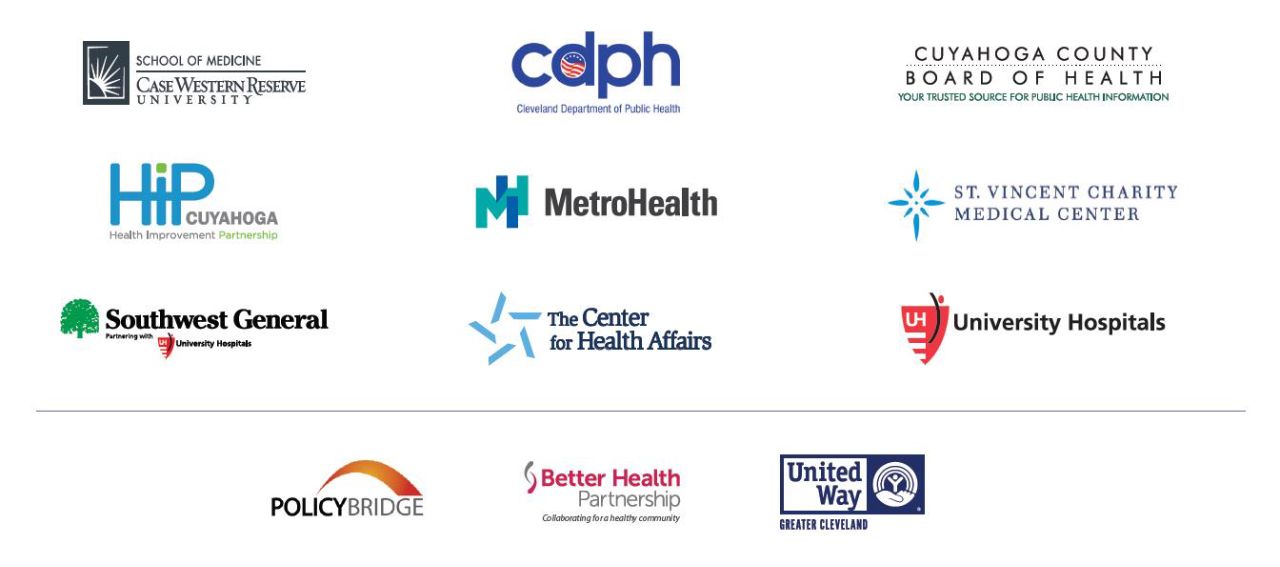 Moving from Separate Health Assessments toward
Greater Collaboration for Health Improvement
The opportunity for all in Cuyahoga County to achieve their full health potential depends upon long-term collaboration among diverse individuals and organizations.
In 2018, HIP-Cuyahoga partners committed their time and resources to bridging public health and clinical care by conducting the first joint community health assessment of its kind in Cuyahoga County. This joint assessment represented a new, more effective and collaborative approach to identifying and addressing the health needs and assets of our community.
This shift in the way health assessments are conducted is a deliberate and strategic approach to working together more effectively and efficiently. It also demonstrates a clear commitment to aligning health improvement planning efforts locally and at the state level, to address health inequities that continue to plague our county. In 2019, we expanded our partnership among hospitals, public health, social service and other stakeholders to conduct a more comprehensive Community Health Assessment (CHA). This collaborative CHA will be used to collectively design a community health improvement plan (CHIP) and implementation strategy for the next three years. This plan will focus on equity-grounded approaches to address the most pressing health issues for Cuyahoga County.
In Cuyahoga County We Know That:
A tremendous wealth of community assets and healthcare resources exist in Cuyahoga County, yet stark differences in health are experienced by our residents.  The conditions that shape health such as financial resources, access to healthy food, and safe and affordable housing, are not spread equitably across the county, resulting in significant differences in health outcomes, life expectancy and infant mortality.  These differences are shaped by long-standing systems and structures that impact the conditions in which residents live, learn, work and play.
LIMITED OPPORTUNITIES
Social Factors and Conditions That Shape Health
Structural racism
Trust
Poverty
Food Insecurity
Transportation
POOR HEALTH
Health Behaviors, Mental Health and Health Outcomes
Tobacco use
Lack of physical activity
Flu vaccination rates
Cardiovascular disease
Diabetes
Childhood asthma
Opioids
Homicide/violence
Lead poisoning
SHORTER LIVES
Mortality
Infant mortality
Life Expectancy
Mortality rates from disease
Top Health Needs in 2019
Eliminating Structural Racism
Enhancing Trust and Trustworthiness
Between hospital, public health systems and residents
Between healthcare providers and patients
Between social service agencies, community stakeholders and hospitals
Addressing Community Conditions such as Poverty and its Effects
Enhancing Mental Health and Reducing Substance Abuse
Reducing Chronic Illness and its Effects